Veterinarians
Dr. David Danielson
Dr. Danielson has been practicing small and exotic animal medicine for over 28 years in the Tampa Bay area. He is a Tampa native and graduated from the University of Florida College of Veterinary Medicine in 1994. His background also includes experience in the areas of Field Biology, Wildlife Ecology, Comparative Anatomy and Zoology.

His love for problem solving and his passion for treating his patients as children has been the cornerstone of his practice philosophy. Through compassionate care and aggressive proactive wellness screening he has garnered a reputation for leaving no stone unturned in his pursuit to improve the quality and quantity of life for his patients.

Dr Danielson also serves as Vice President of Veterinary Technology at Syndaver Labs, a manufacturer of high-fidelity medical simulation models with broad applications in both human and veterinary surgical training, as well as in medical device development and validation. He is responsible for the development of all of SynDaver's veterinary products, including the Syndaver Surgical Canine as well as Equine and Feline models. Over the last year he has created the Synfrog, a frog dissection alternative for high school biology classes. It is his intention through these endeavors to replace all animals used in education with realistic simulations, thereby enhancing the learning experience as well as removing any moral considerations.

Dr. Danielson is actively involved in rescue work in the Tampa Bay area and regularly volunteers his time examining and caring for rescued animals on behalf of Suncoast Animal League, a 501c3 nonprofit animal welfare group located in Palm Harbor, Florida. He and his family have fostered hundreds of cats, dogs, kittens and puppies over the past 15 years.
Dr Danielson is a member of the American Veterinary Medical Association (AVMA), the Florida Veterinary Medical Association (FVMA) and the Pasco/Hernando Veterinary Medical Association (PHVMA).

Dr. Danielson currently resides in Odessa, Florida with his wife, daughter, two rescued dogs, six rescued cats and a revolving door of foster animals.
Dr. Colby Burns

Visiting Board Certified Veterinary Surgeon
Dr Colby Burns is a Board Certified Veterinary Surgeon who is available to perform a variety of orthopedic and soft tissue surgeries at Caring Paws.
Dr Burns is a 2006 graduate of the University of Florida College of Veterinary Medicine, and completed her small animal surgery residency at The Ohio State University College of Veterinary Medicine.
In 2012, Dr. Burns became a Diplomate of the American College of Veterinary Surgeons and in 2013 she became a Diplomate of the American College of Veterinary Sports Medicine and Rehabilitation.
Dr. Alison Adler

Relief Veterinarian
Dr. Adler is a Tampa native with over 15 years of experience practicing small animal medicine in the Tampa Bay area and is a former colleague of Dr. Danielson's, and is very familiar with the Caring Paws philosophy
Staff
Brindy Minici, CVT

Hospital Manager
Trish Schmidt

Lead Veterinary Technician
Katherine Rankin

CVT
Ann Hernandez

Veterinary Technician
Krissy Brown

Veterinary Assistant
Lauren Dowdell

Veterinary Assistant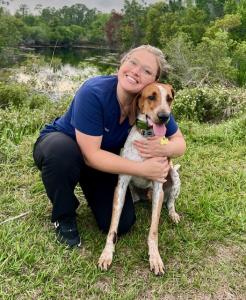 Malory Huck

Veterinary Assistant
Shalli Inghram

Veterinary Assistant
Joe Lonigro

Veterinary Assistant
Janie Lopez

Veterinary Assistant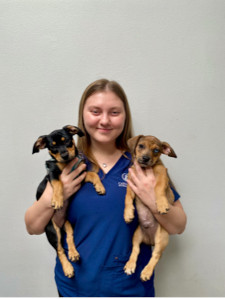 Skylar Thornton

Veterinary Assistant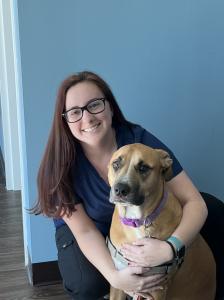 Alexandra Anderson

Client Care Associate
Shelbi Currey

Client Care Associate
Diane Magyar

Client Care Associate