Advanced Veterinary
Diagnostics
Fluffy visiting the water bowl too frequently? Rover suddenly limping? Diagnostic testing is the key to identifying the cause of issues such as these. At Caring Paws Animal Hospital, we have a broad range of in-house diagnostic tools and cutting-edge equipment to pinpoint the cause of your pet's issues. These capabilities, coupled with Dr. Danielson's 25 + years of experience dealing with complex cases, lead to an accurate diagnosis and effective treatment plan.
On-Site Laboratory
Our in-house lab gives us the ability to process bloodwork and perform numerous other diagnostic tests so we can identify problems as accurately and as quickly as possible.
Our testing capabilities include, but are not limited to:
Bloodwork, including full comprehensive chemistry profiles, blood glucose, CBC, thyroid, CPL/FPL, and SDMA with all results received in as little as 17 minutes.
Urinalysis and validated interpretation of urine cytology
Microscopic identification of organisms
In-house cytology, including ear, skin, and masses
PT/PTT (for diagnosing bleeding disorders)
Heartworm tests, Lyme testing, Anaplasmosis ehrlichia
Feline Leukemia/AIDS
Parvo
Digital X-Rays
From broken bones to swallowed socks, radiography is often used to help diagnose your furry friend's trouble. At Caring Paws Animal Hospital, we use cutting-edge digital radiology equipment to deliver a crystal-clear image.
Accurate radiographic interpretation is essential in determining the best treatment plan for your pet. These high quality images can sometimes help us avoid surgery, thereby sparing your pet the unnecessary discomfort and you the unnecessary expense.
Not only do we use the best equipment, we utilize secondary validation and interpretation as well as a board-certified radiologist's opinion if necessary.
Ultrasound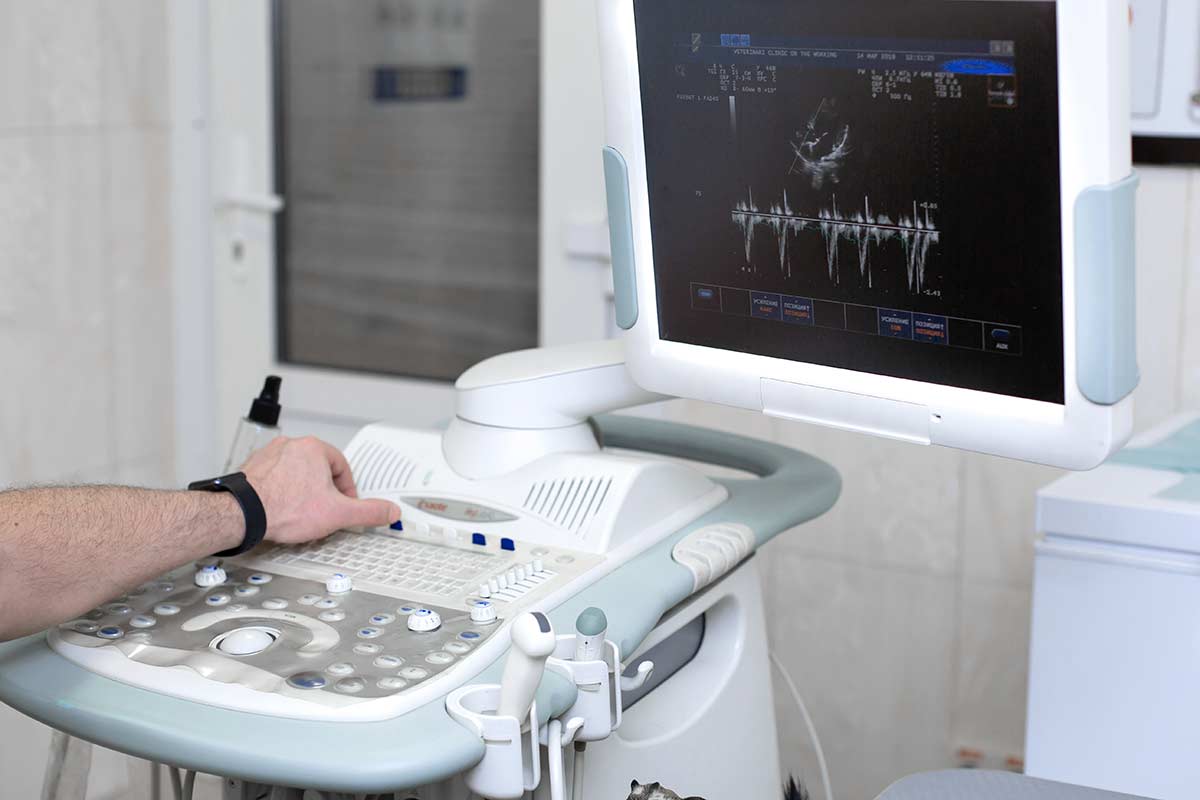 Ultrasounds can help us diagnose a myriad of conditions, including heart disease, cancer, and urinary issues. They allow us to image the internal structures of organs to better identify the problem and thereby create an effective treatment plan for your pet.
Additionally, ultrasound-guided biopsy provides a nonsurgical solution to tissue sample collection, which allows us to effectively diagnose your pet's condition.
When needed, we can call in a board certified ultrasonographer for more complex ultrasound procedures.
---
We're pleased to offer our pet families the advantages of our on-site, advanced diagnostic tools. Please contact us if you have any questions about our testing capabilities.